Coaching
International Coaching Certification Training Programs
Overview – ICC International Coach Training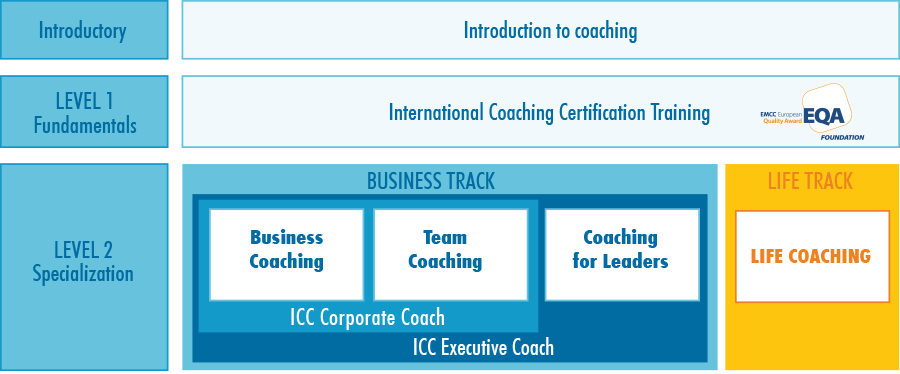 International Coaching Certification Training Programs
The Lambent training are accredited by the EMCC (EQA) and has three levels of training
Level I – International Coaching Certification Training Program
This training is a minimum of 60 hours training, contact time spread over four months. Successful participants receive the ICC certificate of International coach and are eligible for level two training.
Level II – is the specialist level – Executive, Business-, Team- and Life coaching
These courses are open for all professional coaches. For those coaches who didn't take ICC level I training, there may be a leveling work before starting the training.
Successful certification in Business- + Teamcoaching make a certification in Corporate Coaching.
Level III – Master coach level
In order to graduate to Master coach level, a coach has to successfully complete levels one, two and three. There are no extra training hours for this certification, but they will need to have at least then hours coaching with a mentor coach, who will be an ICC trainer.
Detailed info about the ICC Coaching levels can be found at the ICC official website
More information about the courses please contact Skandinaviska Ledarhögskolan at: www.slh.nu
Scheduled Trainings
The Scandinavian International University is giving ICC Trainings at a regular basis
in Costa Rica, Thailand, Mallorca and in Sweden. Languages: Swedish or English.
Please find the scheduled trainings here
Non-scheduled Trainings
We can also arrange non-scheduled trainings for you and your organization – a minium (and maximum) of 16 participants is required.
Please contact us for discussion and offer!